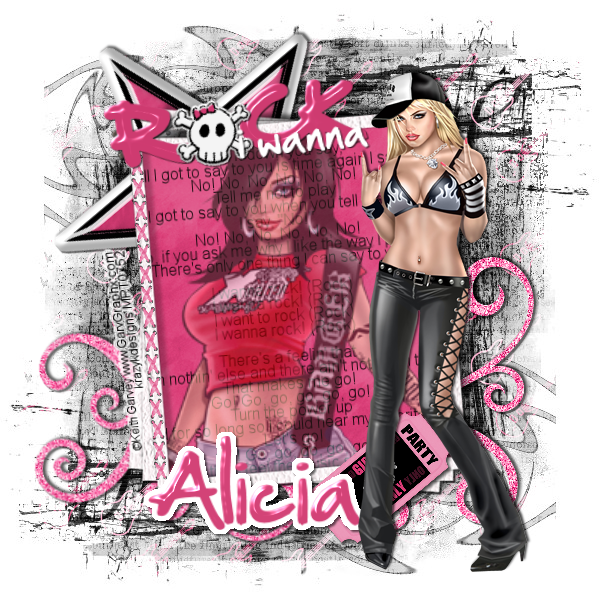 YOU WILL NEED A WORKING KNOWLEDGE OF PSP.

SUPPLIES NEEDED:
I'm using the wonderful art of Keith Garvey.
You may purchase a license to use his art here.
Scrap kit of choice: I'm using the kit Girls rock too by Misfit Scraps
Font of choice: I'm using 'hand of sean'.
Mask: WescottGlass Tutorials WSL221
Eye Candy 2.1 Glass
Get my supplies here
Made in PSPX1
Open a 600x600px canvas and flood fill white.
Open your first paper as well. This should be a pattern.
Resize to 50% and paste on your canvas
Now go to LAYER-> LOAD/SAVE MASK->LOAD MASK FROM DISK.
Select the layer you wish to use and click load.
Now open your frame. Paste as a new layer (CTRL+L)
Open your second paper as well, this should be a plain paper.
Resize to 50% and paste under your frame.
Using your selection tool, select the inside of the frame and go to SELECTION->MODIFY->EXPAND
You may need to choose about 8px to get your selection behind the frame.
Now select your second paper layer and go to SELECTION->INVERT
Hit delete on your keyboard to remove the excess paper.
Grab your text tool and add whatever lyrics you wish.
Set the opacity to this text to about 50% or so
Now add your first tube. These two layers should go behind your frame.
Set the opacity of your tube to about 50% as well.
Grab your selection tool and repeat the steps of erasing the excess from around the frame.
Now add your elements whereever you like.
Add your main tube.
Now add drop shadows to your elements and tube.
I don't recommend adding drop shadows to your tube or text inside of the frame, but that is your call.

Now we'll add your name.
Use your eye candy plug-in here. i used the following settings.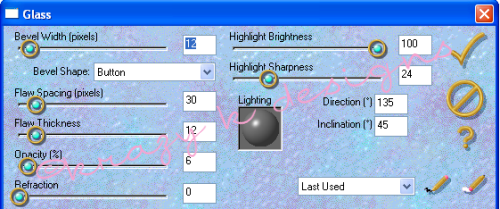 Don't forget to add your copyright!!!
Now crop off the excess canvas and save as a PNG (with or without white background).